About Me
The Fool

With a cronic love for anything "out of the ordinary" I babble on about life's little ups and downs.
View my complete profile

Awesome Lolita Blogs!


Jan 15, 2011
So... I posted this review on my LJ a very good while ago, but I thought I might as well post it here too since I'm so happy with the purchase!
So a while ago I received a package from the Etsy store
LondonsGate
! I was so excited when I saw it in my mail box, which is pretty weird since I usually don't get that excited over just a small thing. What I bought from them was a handcrafted necklace. Since it's not too long ago I started to get seriously into lolita, I also realized it was about time for me to invest in some jewelry too. After all, a proper coordinate is nothing without jewelries and proper accesories.
As I recently discovered I have a weakness for black roses, I immidiatly fell for
this necklace
when I saw it. It cost me 34USD, shipping included and it was most definatly worth it too! It was shipped right after the weekend I bought it, and it arrived two weeks later. I didn't have any issues to sort out with the seller so the communication was minimal. This doesn't bother me though. Usually a silent transaction is a pleasant transaction to me.
It arrived in a paper envelope that was filled with styrofoam pellets. Inside was a little white box wrapped in bubblewrap to make sure the necklace wouldn't receive any damage from the trip from England to Norway. The box was tied up with a pretty little bow, and added with was their business card. As I noticed when I turned it, they had also hand written a little thank you note to me on the back of it. Such small things always make me happy!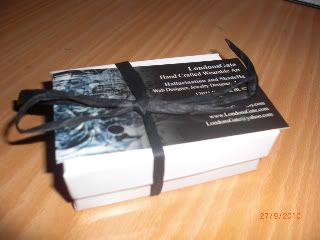 I opened the box and saw the necklace in its full glory. It's even more beautiful in real life then it is on the screen, and the quality is... Awesome. To use the word in its right sense. I can't wait to receive a proper blouse so I can coordinate this into an outfit. Luckily for me, though, I already have two sets of matching earrings!
Overall, I would just like to say that if all of LondonsGate's items are as wonderful and have as good quality as this... I will definatly buy from them again! Their items are absolutely gorgeous!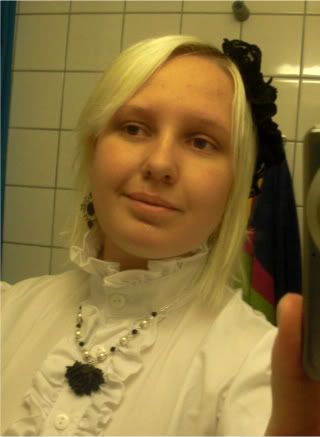 A little headshot of me (yeay! Bathroom shot!) with the necklace, a set of earrings and a black rose headdress from Innocent World. I love it all! Blouse is from F+F if anyone wonder, but I have stopped using it since I have become a little too iffy about the lace and sleeves. They're bellshaped, and not very practical in everyday life. Besides, I think it's too big now as I haven't worn it since I took this picture... Which was in September.

Anyway. Toodles!
Blog Archive

Tags